... ABOUT THE KINGSTON TRIO PLACE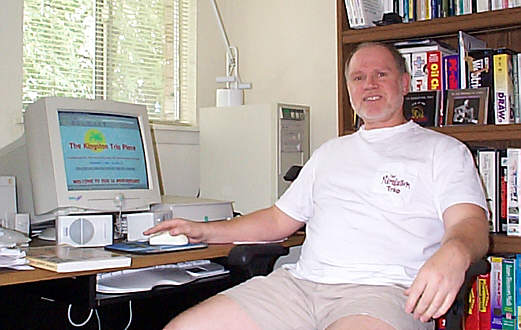 Back in April 1995, when I went on the World Wide Web for the first time, I immediately entered the words "The Kingston Trio" (my all-time favorite singing group) in something called a search engine. The only results my search brought back were a couple of names for some America Online members who had listed in their AOL-member profiles one of their interests as being The Kingston Trio. Not very encouraging!
During the next two years or so, as the Web grew and developed, the amount of Kingston Trio-related information and sites grew slowly. The sites that did include anything about The Kingston Trio did so as an adjunct to something else and with little depth. During this same time period, my interest in the Web grew and with it my fascination for site building.
In 1997, after approaching Bob Shane and getting his encouragement, it became apparent that I could and would build a Web site that would serve to focus two strong interests of mine: The Kingston Trio and The Web. In doing this, I hoped that my excitement in melding these two entities would attract Kingston Trio fans from all over the world, and thus, help us gather together and become an online community.
When I posted the first weekly issue of this site on September 28, 1997, I wasn't sure how many Kingston Trio fans were still out there in the world--let alone online! To paraphrase a quote entered often since that time by first-time visitors in postings to the Web Forum and Comment & Guestbook on this site: "I thought I was the only one out here!" Now, we know we are many!
With this, the 53rd consecutive weekly issue of The Kingston Trio Place, we begin our second year. We have expanded from a one-page Web site, our first issue, to a multi-page site comprised of an ever-expanding list of features many of which have been suggested by you: The Kingston Trio Fan. This site, thus far, has succeeded far beyond my expectations because of your interest and support. With your continuing enthusiasm and suggestions we can keep this site fresh, lively and an ever-better home for Kingston Trio Fans worldwide!
Thank you ALL very much! Now, on with our second year!


Ken Laing - The Kingston Trio Place - September 26, 1998
E-mail Ken with comments, suggestions and questions